Isle of Man Motor Museum, Jurby, Isle of Man
The Isle of Man Motor Museum located in Jurby, has become the permanent public home for the Cunningham Classic Cars collection of the father and son team of Denis and Darren Cunningham. Cunningham Classic Cars began as a small collection of Denis Cunningham's classic cars, the love of which was passed on to his son, Darren. In May 2015 their dream came true with the opening of the £5m, purpose built museum building, with an amazing 70,000 square feet of exhibition space. It is their pride and joy and has become a Mecca for enthusiasts and a real show piece for the Isle of Man.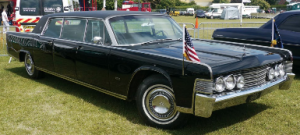 The Museum features a collection of over 250 unique vehicles from around the world, which includes: Classic cars and motorcycles; rarely seen private motorcycles and a steam collection. The Cunningham's pride themselves in displaying several unique "one-off" vehicles, some of the highlights of the collection being a coach built 1954 Humber Super Snipe (purposely built and used by Queen Elizabeth II for her Coronation Tour of the Commonwealth), and an ex-White House 1965 Lincoln Continental limousine (used by Secretary of Defense, Robert McNamara).
The museum also houses the first Monica, a vehicle that we had previously never even heard of! After a little research it appears that this short-lived brand of luxury cars was created in France in the early 1970's by Jean Tastevin (named after his wife Monique), but with help from London's,Chris Lawrence.  The Monica was a relatively unknown, sleek, handmade 4-door sedan, of which only about 30 cars were built, (8 production and 22 prototypes). A high quality, excellent but expensive car, with a large American "gas guzzling" engine, it was doomed to failure at a time of fuel rationing with the 1973 oil crisis, the
factory closed in 1974, the Company went bankrupt in early 1975.
The car shown here belonged to the late Chris Lawrence and was sold in 2011 for £55,000. The museum also houses Monica #2 and Monica #6. More of the museums unique collection includes a prototype right-hand drive DeLorean and a 1954 GM PD4501 Scenicruiser Greyhound Coach.
The Motor Museum's 2016 Joey Dunlop Exhibition
New for 2016, the museum is proud to present an extra special attraction, which promises to be one of the highlights of the 2016 TT Festival and beyond.
The Dunlop family have very kindly and generously loaned a unique and poignant collection of machines and personal items to the museum. There will be 7 of the famous racing bikes in all, 3 of which are permanent fixtures at the museum, plus Joey's much-loved Mini. The Motor Museum's display will also include around 30 sets of leathers and 20 of Joey's helmets (including his first, still adorned with black tape).
A unique centrepiece of the display will be the first ever contract that Joey ever signed to race with the Japanese manufacturer, Honda.
The exhibition marks 40 years since Joey first competed in the IOM TT, his achievements include three hat tricks, in 1985, 1988 & 2000 and he went on to win a staggering 26 TT races in total, a record that John McGuinness is hot on his heels and keen to better.
Joey was awarded an MBE in 1986 for his services to sport and a decade later he was awarded an OBE for his humanitarian work for children in Romanian orphanages, to which he had delivered clothing and food.
The Joey Dunlop exhibition will open just prior to the 2016 TT and it will run throughout the summer months, to include the Manx Festival of Motorcycling.  This is not one to be missed.

We are sure that the Dunlop family would also like us to mention the Joey Dunlop Foundation (established 2001), which is an Isle of Man Charity whose main aim has always been to create specialist accommodation that will open up the Isle of Man to visitors with disability. Braddan Bridge House, located in the islands capital, Douglas, hosts apartments available for the needs of all disabled guests and allow them to experience the beauty of the island and the excitement of the TT street-bike races.
For more information, please visit www.joeydunlopfoundation.com
Visitor facilities at the Isle of Man Motor Museum include a car club display area, coach parking, coffee kiosk, gift shop, toilets and disabled access throughout. Next door is the Guard House Café, housed in a restored WWII RAF building. The museum also incorporates a library and maintenance and restoration facilities, where visitors can see vehicles undergoing restoration as the museum is hoping to restore several vehicles per year to add to the collection.
Opening later this summer (2016) is a period machine workshop featuring a variety of stationary engines and belt driven engineering machinery.
The museum is happy to exhibit motorcycles, classic and racing vehicles and other items of interest on loan from their owners in a rotating basis to keep their displays fresh and interesting.
Although it is not our usual custom to recommend an attraction before actually experiencing it ourselves, it is our intention to do so when we are over for the 2016 Classic TT and Manx GP, however after in depth consultation with the owners we consider its early inclusion into our website well and truly justified and we welcome the Isle of Man Motor Museum into our "Friends of Johns Motorcycle News".
Our LATEST UPDATE to the above ARTICLE:-
As was our intention, we made arrangements to visit the museum during our stay at the 2016 Classic TT and Manx GP and so, in late August 2016, although unfortunately (due to both of our busy schedules) we never got to meet Janeen, we finally got to meet Denis and Darren Cunningham and to have a look around their fantastic museum, which really did exceed all of our expectations!
Their museum really is ultra modern, scrupulously clean and well laid out, with an unbelievable array of vehicles, large and small, with many "one-off" examples unique to this museum.
Some of the,many, more unusual exhibits included a beautiful replica Senior TT Trophy carved by Xtreme Chainsaw (07766 604291), a steam motorcycle (kerosene fuelled), multi cylinder Pratt & Whitney aircraft engines in transportation pods and a cut away demonstrator model, a massive trike, a fantastic yellow Isle of Man, Charabanc (made from an American fire truck), huge American hearses, American ambulances and stretched limo's and a fantastic array of motorcycles, large and small, new and old. You can see more at www.facebook.com/isleofmanmuseum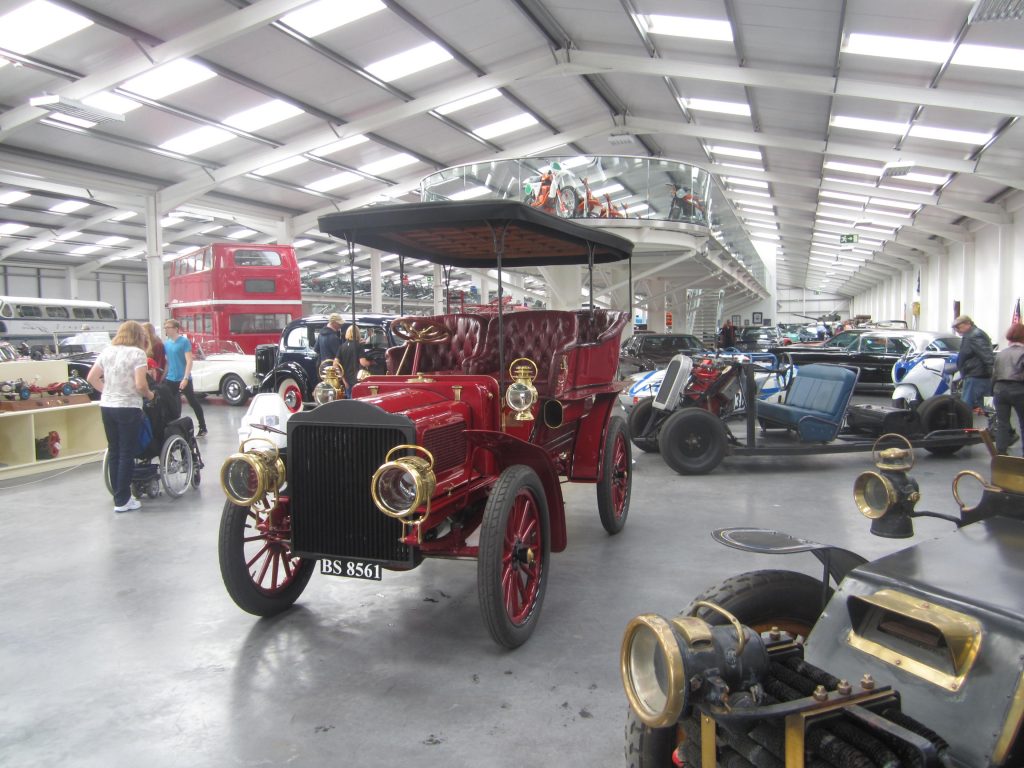 Access is easy, the museum is wheelchair friendly (with lifts to both of the mezzanine floors) and exhibits can be closely inspected, as there are no barriers and/or roped off areas.
Which means that you can get up close to each exhibit and if you really do need to see what's under the bonnet (as a couple did whilst we were there) Denis or another member of staff are quite willing to show you. All that they ask is that you respect their property and refrain from touching the exhibits.
The museum covers a truly massive area; the ground floor is mainly dedicated to motor vehicles and engines along with (currently) the Joey Dunlop exhibition that has to be seen to be believed. Joey's race motorcycles, his boots, leathers, hundreds of trophies, medals, certificates and even his toolbox are there for all to see, in a dedicated display just off the main hall. It is believed that not even the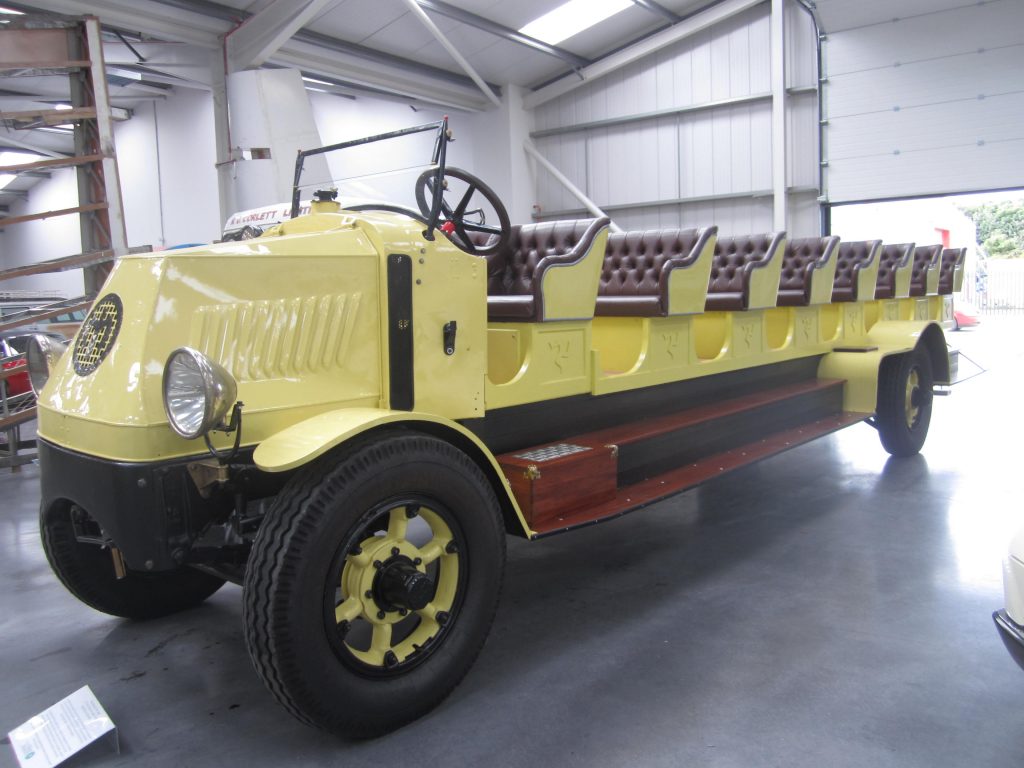 Dunlop family has had all that is within the museum on display at any one given time, and when eventually these items are returned it is highly probable that they may never all be seen together on display again. So, if you do get a chance to see the Joey Dunlop display, make the most of it!
There are two mezzanine floors in the museum (accessed by both stairs and lifts) that are the home to a further collection of motorcycles spanning many decades. These floors also offer visitors a superb view of the ground floor exhibits beneath.
Denis and Darren made us very welcome and we felt very privileged to be treated to a guided tour around their restoration area (which is not open to the public) by Denis. Inside the restoration area they are continually working on new projects of vehicles that they have scoured from around the world to bring back to the Isle of Man.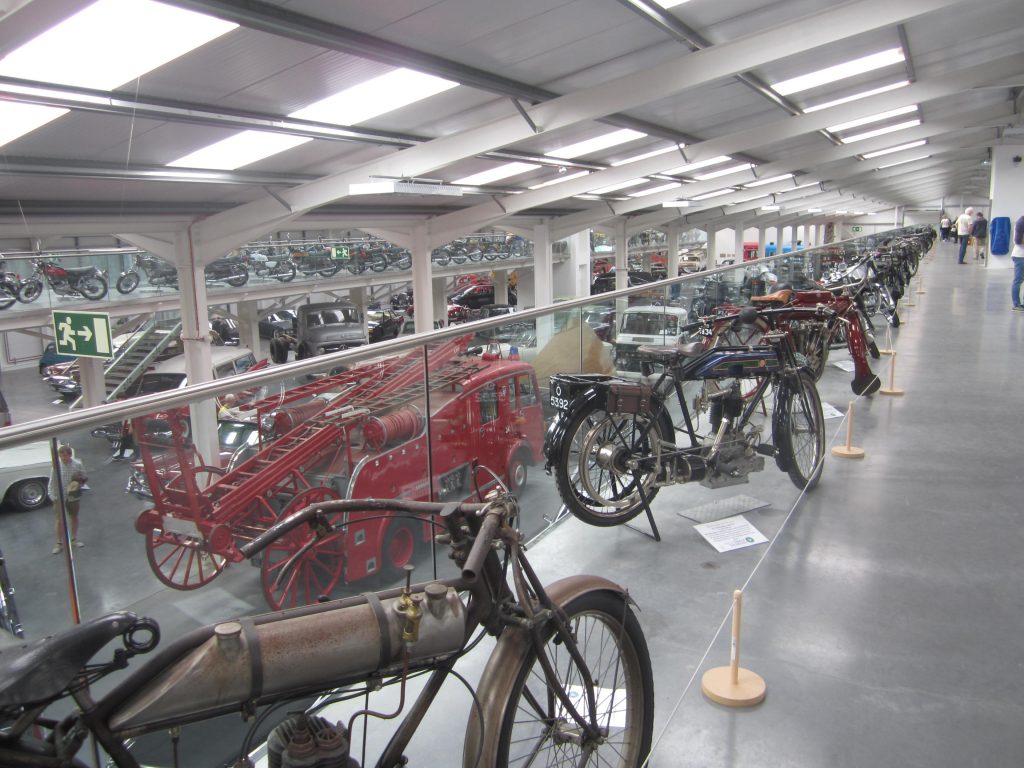 We also had time enough to record a Facebook live interview with Darren, who gave us a great introduction to the museum and some of its many and rather unique exhibits.
Anyway, we don't want to give away too much, so if you are in the Isle of Man we really do highly recommend that you take time to visit this fabulous museum. Don't expect to see it all in a short space of time; you will need to allow plenty of time to see it all. There are chairs dotted around to offer a place to rest, toilet and washing facilities and you could always have a break (like we did) to nip next door to the Guard House Café for a bite to eat and a cuppa.
What more can we say?
Highly recommended to all, contact details: –

Admission: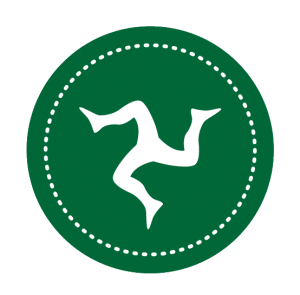 Adult £12.50, Children £6.50 (5-15 yrs) Family & Group rates available.
Opening hours:
During TT fortnight: 7 Days a week from 10am to 4pm
March – October: 10am – 5pm (Closed Wednesday) (final admission 4pm),
Winter Season: Check website for opening hours
Location:
Jurby Industrial Estate
Tel: +44 1624 888 333
Email: info@isleofmanmotormuseum.com
Web: www.isleofmanmotormuseum.com
Michael W George (& John Abram)