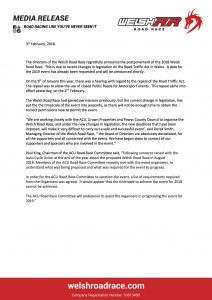 Sadly, as you can see from the Media Press release within, this event has had to be POSTPONED due to changes in legislation and unforeseen circumstances.
John's Motorcycle News was absolutely delighted to be invited to be a part of one of the greatest things to happen to road racing in the UK in the last 50 years.
This was one of our best-kept secrets and we couldn't wait for the 18th November 2017 when we are able to announce the event to our visitors.
Our wholehearted support went to the fantastic new Welsh Road Race.
This event will be the 4th largest Road Race in Europe and the largest Road Race on the UK mainland, it was due to become a reality and was scheduled to take place on 3rd, 4th and 5th August 2018.
The race planned to utilise a 5.25-mile circuit and provide TV coverage, designated viewing areas, grandstand, catering, welfare and retail facilities, the event is being staged by the Welsh Road Race Company Ltd. It was originally anticipated that the event would run once a year, over a period of 2 days and as soon as it is viable to do so, it would be increased to a 5-day festival.
The Secretary of State for Defence had granted a license to use the historic road circuit within the heart of the Crown estate and the race was to be held on the original track used to stage the Welsh TT between 1948 and 1953.
Below you will find some of the history of this super event and there will be lots more information to follow.
It is the organisers intention to stage racing in various classes, including
Ultra Lightweight motorcycles – 125cc to 250cc capacity

Lightweight Supertwin motorcycles – 650cc capacity

Welsh RR Zero Electric Race

Supersport motorcycles – 600cc capacity

Superstock motorcycles – 1,000cc capacity


The event will also incorporate a parade of Classic & Exotic machinery
Each class will consist of a maximum of 40 machines, with 2 motorcycles setting off at 10-second intervals. Each machine will be timed in order to produce an eventual winner in their respective categories.
This event has come about after tons of hard work from a lot of enthusiastic and well-known people from within the motorcycle fraternity (far too many to mention individually at this stage). They have worked tirelessly to put this event together and have the backing of many famous celebrities so it is bound to be a huge success.
During the event they aim to provide dedicated vehicle parking areas on site, grandstand seating in strategic positions and controlled viewing areas, in addition to obligatory catering and welfare facilities.
Approximately 150 Marshals will be deployed around the course to ensure the safety of competitors and spectators alike. The Marshals will be specifically selected from a national database of experienced volunteers, who willingly devote their time for the love of the sport.
A traveling Doctor, Ambulance crew, Trained First Aid personnel and Rapid Response teams will be strategically positioned around the course to deal with accidents and emergencies should they arise. Preferential access to the Air Ambulance can also be requested through the MOD.
Commentary provision will be made at various points around the circuit, with each position hosting a commentator and communications equipment. Commentary positions will be based at various points relaying real time action as it happens around the 5.25 mile Welsh Road Race circuit.
TV cameras filming high-speed motion and onboard footage of the Welsh Road Race will also project corporate branding into your front rooms alongside promoting Welsh tourism.
The Welsh Road Race Co.Ltd's., expansion programme plans to encompass a Road Racing Academy, which will be located approximately 1 mile from the circuit. The Academy will consist of a section of track and classroom accommodation to enable practical and theoretical training to take place. These facilities will also be used to train Marshals and First Aid responders.
To say that we are truly impressed with the professional organisation of this event would be an understatement!
We were delighted to be invited to be a part of this tremendous event and it has been most difficult for us to keep things secret prior to the official launch date at the Bike Live event at the NEC on 18th November 2017.
We will provide more details as we receive them and update this article with any new contact addresses that you may require.
Contact details for more information and bookings:-
Web : www.welshroadrace.com
Email: derek.smith@welshroadrace.com
           phil.morris@welshroadrace.com    philedge@manx.net
So, don't forget to reserve the dates in your diaries for the:-
The Welsh Road Race on the 3th, 4th and 5th August 2018 (hopefully now in 2019?)
Media Releases below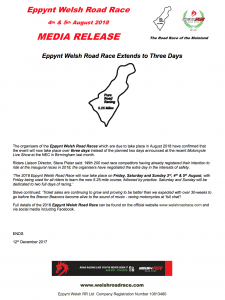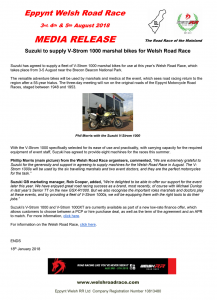 Ride safe
Michael W George (& John Abram)