Our recent visit to the Isle of Man for the "Festival of Motorcycling" was a huge success and you can read news of that in our Home Page article (above) and/or within our "Events and Shows" section.
You can also check out our "Places to Visit"  section, where you will find many articles on the wonderful attractions that the Isle of Man has to offer. There is so much to see and do, brilliant museums, wonderful roads and scenery, steam trains and lots, lots more, to ensure you have a wonderful time.
Once again "John's Motorcycle News" sponsored "DB Racing", more about this up and coming race team can be found within our other articles about our good friend Dan Beighton and his
DB Race Team.
You will find these in our "News and Interest" section.
Dan and his team were brilliant and had a very successful time in the Isle of Man, making us all proud to be supporting them.

RIDING IN WALES

In August 2017 we once again took to riding the wonderful biking roads of Wales, with fantastic views and stunning scenery and roads that really were just made for riding! We visited the picturesque town of Llangollen, the Pontcysyllte Aqueduct, (now part of the UNESCO World Heritage Site), Chainbridge and the Horseshoe Falls and re-visited some old friends of ours at  family run Llangollen Motor Museum (just outside of Llangollen on the Horseshoe Pass road). Currently featured on our "Home" page, you can read more about this museum within our "Places to Visit" section.
Then it was on to the famous Ponderosa Cafe at the top of the Horseshoe Pass for refreshments before making our way back home through more of the wonderful roads that North Wales has to offer. To be honest, not having ridden there for a while, we had forgotten just how picturesque the Welsh scenery actually is. Highly recommended to all, ride safe.
2018 – LATEST BREAKING NEWS –
Endurance Legends 2018, DATES DUE to be CONFIRMED SOON for May 2018, keep checking in with us for any updates.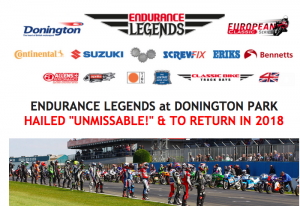 Endurance Legends 2018 is now underway and the dates are due to be confirmed soon for May 2018. So make a note in your diaries and keep tuned into the website and social media for the latest updates!
Isle of Man TT
You will all, no doubt, have followed this fantastic event, in person, online and/or by watching ITV4's excellent coverage, (whether it be live, recorded or on demand), thanks to Craig, Stavros, Steve and Cam. Unfortunately, the weather wasn't very kind to the riders (or spectators) this year, with delays and cancellations of races (and sailings), but spirits remained high throughout and the quality of racing was superb.
Our congratulations go to all the winners, indeed to all who took part, not forgetting all those people behind the scenes, pit crews, scrutineers, mechanics, organisers and Marshals, without whom this fantastic road race would not be possible, indeed to anyone actively involved. In addition our sincere thanks go to the medical teams, all of the emergency services, the transportation service providers, but mainly to the people of the Isle of Man for their patience and co-operation in allowing their roads to be closed and suffering the inconvenience that this causes.

At a time of fantastic achievement, podium places and celebration we must never forget those who have passed on doing what they dearly love, riding the famous TT course, and so we all pass on our sincere condolences to the families of those who have sadly lost their lives in pursuit of their dream.
The Island will be able to get back to normal for a brief spell, before preparing, once again, for the other event of the year, the Festival of Motorcycling, Classic TT and Manx GP in late August, something that we look forward to each and every year, when we get to see and stay with our wonderful Manx family once again.
OF RECENT INTEREST  – Mortons Strive to get more people "On 2 Wheels"

Want to get into (or back into) motorcycling?
Then take a look at a new title on the market from our friends at Mortons, with the specific aim of encouraging beginners and new riders.
 "On2Wheels"  is a free pick-up newspaper  that brings together all the information and
advice needed for those starting out. Features in the debut issue include advice on moving through the licence categories, improving riding skills, saving money and buying the right kit.
The inspiration was to do exactly what it says on the cover… get more people on two wheels, whether it's scooters or motorcycles. You could be starting out for the first time, a former rider looking to get back on the road or someone wanting to take steps towards a full A licence. On2Wheels is also supported by a website www.o2w.co.uk  (or just click on the logo) that includes a function to read the latest printed issue, along with a presence on various social media channels. What a brilliant idea !
ABOUT US :-
John Abram and Michael W George have been active members of the VMCC (Vintage Motor Cycle Club) for many years now, both own several motorcycles and have a common interest in all things "motorcycle related" for bikes of all ages (not just solely those over 25 years of age).
They regularly attend, often organise, and help support motorcycle events, displaying race bikes and supporting charities and good causes. In doing so they meet some very hard working and interesting people and many well-known celebrities on the way to boot!
Over the last few years they found that there was a great need for regular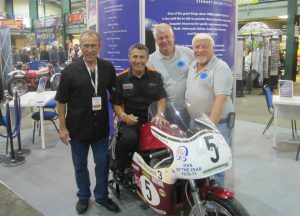 information and news with the ever expanding interest in motorcycles, both Classic and Modern, and the related products and services required to keep them well maintained and safe. There is also a need for a novice (and even a hardened veteran) to know where they can obtain certain parts or services from a trusted recommended source.
To go some way towards satisfying these needs John developed a system of communication by text and emails sending them to those people who expressed an interest in becoming involved and Michael wrote and submitted many articles and photographs onto their local VMCC website and published several within the VMCC's International monthly journals. They also actively support trusted traders and suppliers of whom they had dealt with, or had first hand knowledge of, and all of this has become extremely successful and popular, supported by many well-known celebrities and businesses.
John has a regular slot on BBC Radio Lancashire, on John Gilmore's (Gilly) show to chat about all things motorcycle related and motorcycle events and Michael has also joined him as a guest speaker. This soon developed into many organised and extremely well attended "live" outside broadcasts at a variety of interesting venues.
With an ever increasing number of interested parties and demand, not only from fellow VMCC members, but also from non members, traders, friends and colleagues it seemed only natural to consider creating an informative website of their own.
Their aim was to produce a website of interest, of events and news and of reference, the "Ultimate Motorcyclists Directory"  but they could never have envisaged just how successful it would become. Within months of launch the site became International with thousands of visits per week!
John and Michael sincerely hope that you find this website creative, interesting and informative and they wish you all safe and happy motorcycling.